When Abby Leaderman was getting ready to move into her first Chimes group home, her mother was nervous. After all, Abby had lived with her parents for all of her 40-plus years and the parents had been the main caretakers of their special needs daughter.
On the weekend of the move, the staff hosted a get-together at the Mount Washington home for Abby, the other two incoming residents, and their families. At the reception, Abby and one of the other residents bonded quickly.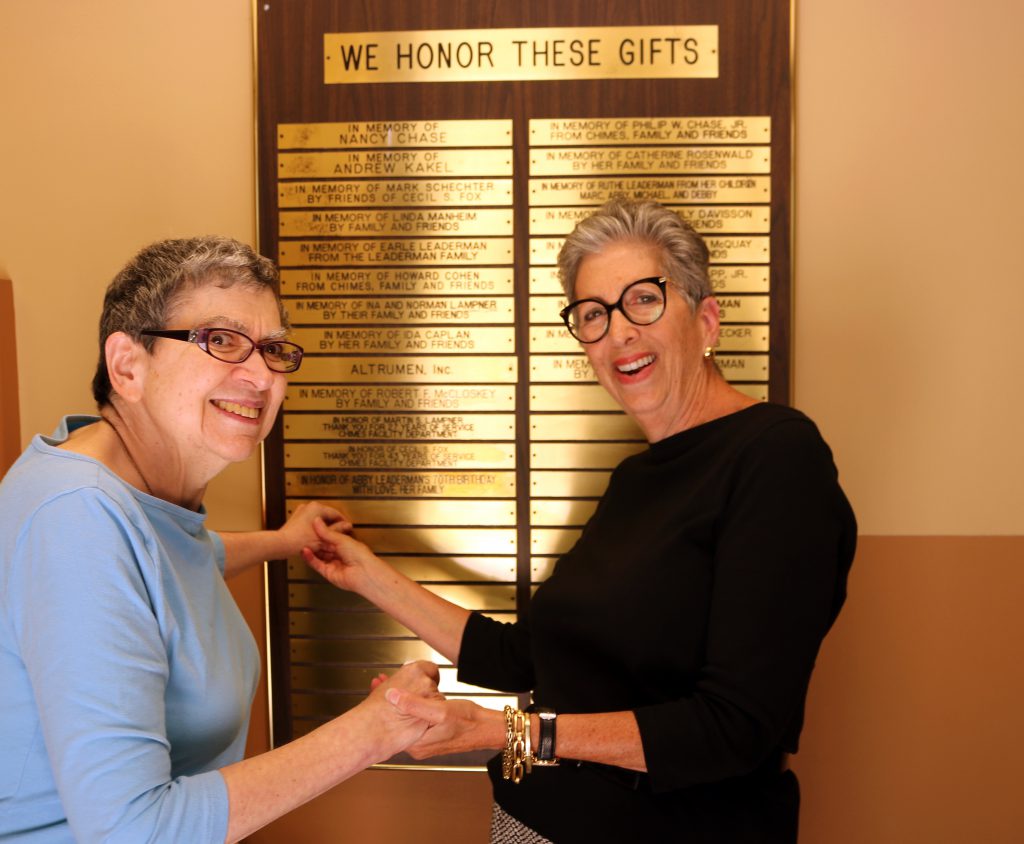 "The girls were chattering away," recalled Debra Koman, Abby's sister, "and the next thing you knew, my sister, who has autism, looked up at us and said, 'Look, Mom, I have a friend. I want to stay here.'
"Everybody burst into tears," Koman said.
They were tears of relief and joy, not of sadness, and Abby's excitement over her new friend proved to be an accurate sign that her move to a Chimes home would work out just fine.
Today, 27 years later, Abby still lives in a Chimes home, albeit a different one. While her father and mother have since passed, both Abby and Debra, Abby's main family contact, remain delighted with the move.
"As agencies go, Chimes is certainly the best," Koman said. "That doesn't mean there's not room for improvement – there's always room. But in the scheme of things, it's been great for my sister. … She's become so much more independent."
Her parents, Koman said, were nervous about "cutting the cord" with their daughter, but it turned out to be what Abby needed.
"People who keep their [special needs] child at home don't realize that as they age, they don't get around as much, and their child's world becomes more limited," Koman said.
'This has given our family a lot of peace of mind," she added. "We know that our sister is taken care of, that she has a place to live and all the necessities that she would really need."
Abby also attends programs at Chimes' Terry Allen Perl Center, in Baltimore. "She loves it," Koman said.
The entire family, in turn, love Chimes for what the organization has done for Abby, and have shown their appreciation in various ways. Debra and her husband Bernard both have served on various Chimes boards and helped with fundraising efforts. They've also been generous with financial gifts, and two years ago gave what Debra called an especially "sizable" contribution to Chimes.
That support prompted Chimes to consider naming something after the family, such as a group home.
Debra rejected that suggestion, but had another: Install a plaque in Abby's honor on the donor wall of the Perl Center, where others (including Abby and Debra's parents) are also honored. Abby has always been intrigued by donor walls, Koman explained, not just at the Pearl Center but elsewhere, and dreamed of having her name on a plaque.
Chimes leaders signed on to the suggestion and this July, on the occasion of Abby's 70th birthday, the plaque was dedicated. It reads: "In honor of Abby Leaderman's 70th Birthday, with love, her family."
A birthday party followed, and Abby was delighted, Koman said, with both the plaque and the party.
"I pick her up for her medical appointments and she always looks at her plaque as we go by," Koman said. "I thought it would be great for her and it is. She loves it."
Koman still calls her sister every night to wish her good night, and visits her a couple of times a month. The sisters' two brothers, who live out of state, also call and write Abby regularly, as do various cousins.
Chimes staffers do their part to keep Abby happy and healthy, Koman said, as they have since the start.
"There are some staff people who've been there forever and do a great job," Koman said. "They've chosen this field and it is not an easy field. Kudos to Chimes for the people they keep and to the people who choose to do this."
Abby Leaderman passed away November 2017. We miss her greatly, thank you for being a wonderful part of the Chimes Family.