Participants in Chimes' Liberty Club East program recently took part in an exploratory class focused on best practices for finding and apply for a job.  The class was led by Keyontay Belcher, a person served by Chimes Maryland, and focused on resume creation and tips for interviews.  Keyontay has worked two seasons as a ticket taker at Oriole Park at Camden Yards in Baltimore and has recently acquired a new job as a ticket taker at a local movie theater. The class focused on how to get a job and included mock interviews.  Additionally, Keyontay talked about what to wear for an interview and the importance of a resume.  "You've got to have a positive attitude at your interview," she shares.
Later, Keyontay was joined by Michael Gortt, another person served, a custodian at BWI. Michael, who has five years of experience, began his job at BWI last year. The two shared with the group how to handle issues that might arise at work.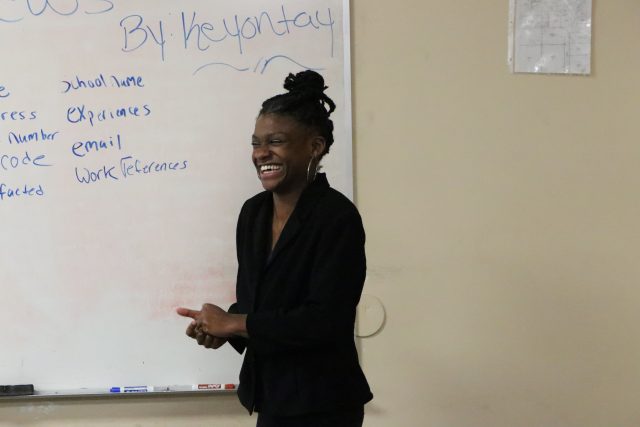 Keyontay, who was once shy, notes that she gets compliments on her smile and excellent customer service.  Her job coach says Keyontay's confidence has grown over the years, and has helped her achieve her goals.  Once the Orioles' season ended, she began working with her job coach to find other employment.  She works three days a week at the movie theater.  "It's a lot of work but it's cool," says Keyontay.  She says she enjoys working and hopes to save up enough money for a car in the near future.   Her passion is doing hair and she aspires to one day work in a hair salon.   Keyontay was recently named Employee of the Year at the Baltimore County Commission on Disabilities 29th Annual Awards Ceremony.