Join Us for Webinar Two:
Managing Challenging Behaviors
FREE Webinar on Friday, April 22, 2022 at 1:00 p.m. EDT!
Event 2: Identifying, Mitigating and Reducing Challenging Behavior Interfering with Employment for People with Disabilities.
This is the second in a series of educational opportunity webinars presented by Chimes International.
Learn from proven best practices and documented success stories how special educators can leverage existing Federal Government resources through the AbilityOne and State Set Aside programs to set students up for success after they age out of the educational system.
To learn more and/or register, please click the following link:
FREE WEBINAR – Education to Employment: When Challenging Behavior Interferes
Webinar One:
Work Opportunities
Chimes is committed to transforming opportunities for graduating students with disabilities who age out of the education system as they transition into life beyond school walls.
Our services in the Mid-Atlantic region are impactful for persons with special needs to obtain and maintain sustainable employment. Over the years, Chimes earned a reputation as a 'go-to' provider of vocational training and job placement services. Today, nearly 1,000 persons with special needs are employed across 27 State and Federal contracts along the Eastern U.S. seaboard through Chimes.
Our leadership team is expanding a proactive approach of sharing our best practices and lessons learned with special education leaders and other stakeholders on a national level to help solve the looming 'aging out' crisis in the United States.
Chimes recently hosted a webinar focused on assisting and educating stakeholders of students with special needs who are graduating and/or beginning the process known as "transitioning" from education to employment. Currently, the programs that are operating in community for many years, such as the Ability One program and state set-aside SIE (Supported Integrated Employment) programs, are largely unfamiliar to educators and parents. Chimes seeks to inform stakeholders how to consider providing high-quality employment opportunities for young people with disabilities following graduation by integrating the program opportunities at the time of the student's annual IEP (Individualized Education Plan).
The first in a series of webinars was attended by 75 stakeholders from all over the country, including special education leaders, parents, and others. Among this group were nearly a dozen school districts seeking to learn more about the program, about SIE, and about how they can align their educational programs to support the jobs available in the set aside supported employment programs.
Chimes President & CEO Terence G. Blackwell, Jr., BCBA, and Executive Vice President of Chimes DC Gerard J. 'Jerry' Cotter both presented during the hour-long online event.
To view a recording of the webinar, please click HERE or click on the image below.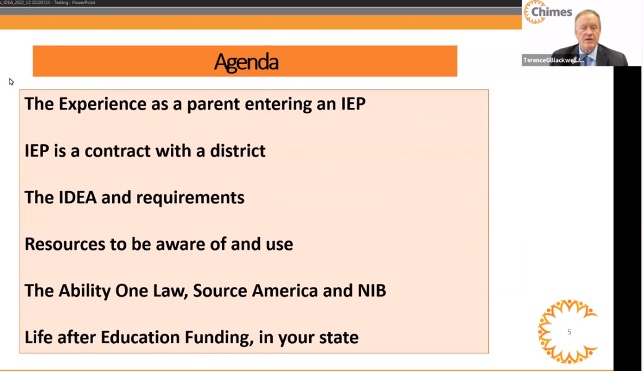 Here are links to relevant sites that were mentioned in the webinar:
To be added to the mailing list for more information on future events, please click HERE to email us.
Chimes is eager to connect special education administrators, transitioning professionals, and parents with other non-profit groups outside of our service area who provide employment opportunities through AbilityOne and similar programs.
Click here to access a list of other non-profits in other parts of the country.