On April 20th, over 700 Delaware County residents participated in the 5th Annual Community Day called Celebrating Prevention.  Community Day is a collaborative effort between Holcomb Behavioral Health Services, Delaware County Office of Behavioral Health, Division of Drug and Alcohol; Delaware County Heroin Task Force; Delaware County Council, and the Partners for Success CTC.
In addition to enjoying food, live entertainment and games, residents were encouraged to bring and safely discard their prescription and over-the-counter medications in a drug disposal drop box. This year's event collected 11 lbs. of medication in three hours.  While this number may seem low, this likely means that the community is utilizing the medication drop boxes all over the county instead of primarily waiting for events to safely dispose of medication.  Holcomb is happy to report that the number of pounds decreasing is a direct result of our staff promoting the 43 County Drop boxes and encouraging the community to utilize them throughout the year rather than wait for our Community Day event to dispose of the medication.
Holcomb was also proud to recognize individuals who received the 2019 "Prevention Partner" award. This award aims to recognize those individuals in the community who go above and beyond in the field of prevention. This year's awardees were: Joe Ditomo, Chrissie Corson, Linda Barbera, Cathie Pfaff, and the Springfield CARES Coalition. Congratulations to the winners of this prestigious award!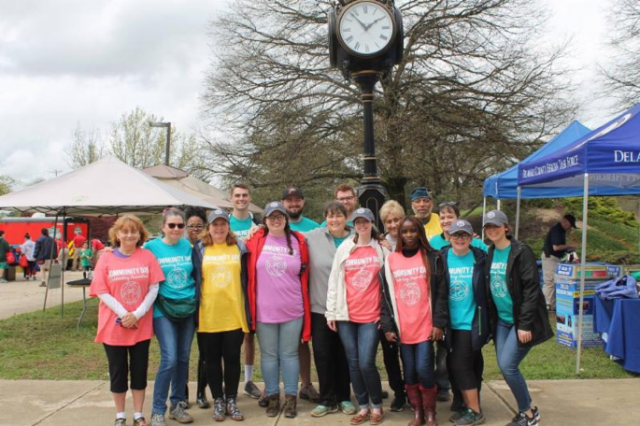 Caption: Holcomb staff and volunteers showing their dedication to Drug and Alcohol Prevention in Delaware County.
Holcomb Prevention was recently featured on their local news on April 27, National Prescription Drug Take-Back Day, for organizing the first ever sharps disposal in Delaware.  Staff members of Holcomb are involved with the Southern New Castle Coalition (SN4C).  Employee Tamson Livanov worked hard to form their sharps disposal subcommittee.  Without proper disposal these prescriptions, needles, and syringes can be misused by people they are not intended for and contaminate waterways. More than 150 people came out to participate in the drug take-back day. Click here to watch the news story.