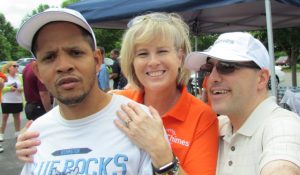 We appreciate your interest in the work of Chimes as we provide a vast array of services — educational, employment, vocational, residential, habilitative, and behavioral health – to more than 26,000 people throughout the region. Dramatic shifts in Chimes operations due to COVID-19 have created a substantial financial impact we could never have budgeted for or anticipated.
Everyday, there are new demands for services, so we must continue to rely on your help to provide necessary services and supports for people with disabilities and other barriers to independent living.
Please show you care with a gift to support our most urgent needs, which include:
Increased pay for Direct Support Professionals and other critical care staff who risk their own health to keep those we serve safe
Emergency funding for cleaning supplies, extra food, personal protective equipment, and household items for residents who are living in Chimes' 119 community living homes
No gift is too small – any amount makes a meaningful difference, particularly to the people in our community living homes. Listed below are some specific items Chimes will purchase with your donations to help guide your giving:
$25: 2-3 family-friendly movie bundles
$50: a variety of coloring books and games
$75: 3 - 4 Arts and Crafts kits
$100: 4-5 puzzles for the residents to enjoy
$200: Sponsor a holiday giving tree for a residence
$500 – Public Transportation Pass for person in supportive
employment program
$1,500 and up – Lift recliner chairs for older residents
There are a number of ways to make a donation to The Chimes Family of Services:
Donate by Phone
Call 410.358.7774 and make a credit card donation.
Donate by Mail
Send a check or money order payable to:
Chimes Foundation
4815 Seton Drive
Baltimore, MD 21215
You can also make a gift to honor or remember someone.
Or explore the other giving options listed below!