Chimes is Honored to be a Part of the Community RedZone Program
Each season, three organizations are highlighted at each Philadelphia Eagles home game and given the opportunity to spread awareness to Eagles fans of the work they're doing in the Greater Philadelphia area to help make a difference.
Chimes is a not-for-profit organization that assists people with intellectual and behavioral challenges to achieve their fullest potential. Through our programs, we have served more than 26,000 people throughout the Mid-Atlantic Region.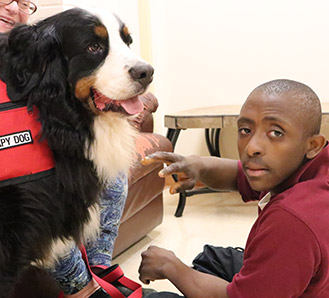 Chimes Behavioral Health Systems in Exton, PA provides services and supports for people with mental health, substance use, intellectual and developmental disabilities.
Our programs are designed to help people:
live independently, guided by choice.
understand, respond to and achieve the potential of their capabilities.
serve as productive, contributing members of their community.
Chimes Offers an Array of Solutions for Adolescents and Adults:
Please support Chimes today so we can be here for them tomorrow. Thank you.
Your support  will help to fulfill our most urgent needs, which include:
Increased pay for Direct Support Professionals and other critical care staff who risk their own health to keep those we serve safe.
Emergency funding for cleaning supplies, extra food, personal protective equipment, and household items for residents who are staying at home in Chimes' 119 community living homes.
Funds to keep temporarily closed programs ready so they can re-open quickly when restrictions are lifted.
Together we care.  Together we give. Together we heal.