Collaboration Drives Responsiveness for New Chimes Maryland Resident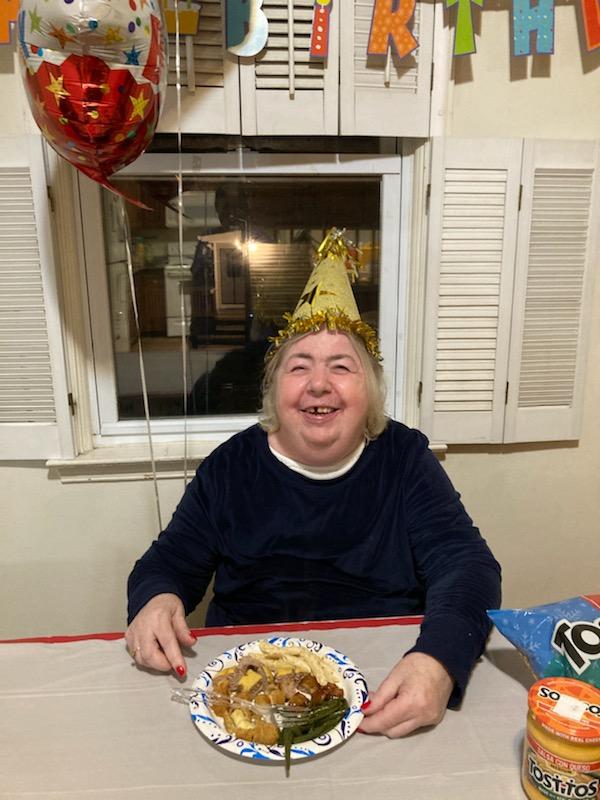 If a picture is worth a thousand words, then this picture of Carol Kirby certainly tells a story. Carol recently came into Chimes Community Living program as an emergency placement. While Carol has been a participant in Chimes day programs since 1974, including many years with our Liberty Club East program, she was fortunate to live at home with her mother throughout much of her adult life. When her mother was in declining health and it was no longer feasible for Carol to live with her, Carol moved in with her brother Gordon. Gordon recently faced some health challenges of his own and needed to find a new living option for his sister while he recovered.
Gordon and Carol met with the Chimes team in mid-October to discuss her needs and in late October visited a Chimes residence, Vincent Farm, to explore Carol's options. Carol was still coping with being away from her mother and no longer being in the home she was used to so there was some uncertainty about how she would respond, but everyone agreed Vincent Farm felt like a good fit.
After a collaborative effort by several entities to pull all the necessary pieces together, Carol moved into her new home on November 2.  She has adjusted very well and is happy thus far at Vincent Farm.  She enjoys walks at Eastern Regional Park and in her neighborhood as well as some shopping trips to the grocery store and Walmart.  Her birthday was November 10.  Despite some dental work earlier in the day, she celebrated turning 69 with some favorite foods and birthday cake.
"It gives me comfort knowing Carol is being cared for by people she trusts and it takes a lot of pressure off of me to know Chimes is there for Carol and understands her needs," said Gordon Kirby, Carol's brother.
Carol's journey with Chimes illustrates not only how the organization has resources at the ready for people with disabilities of all ages, but also shows the interdepartmental collaboration that sets Chimes apart. Our day program team worked seamlessly with our residential program to identify a need and determine the resources that were available, and the two teams worked together to execute a plan. We currently have several other individuals that participate in Chimes day/supported employment areas currently living with family who are in the process to move into Chimes homes. Despite the challenges presented by the pandemic, our residential programs are operational, have availability, and are meeting critical needs. Our teams are working hard to create more success stories like Carol's.
To make a donation to Chimes to help us write more success stories like Carol's, click here.
For more information on Chimes Community Living options, click here.