Keyontay Belcher is Ready to Clock Back In to Employment Success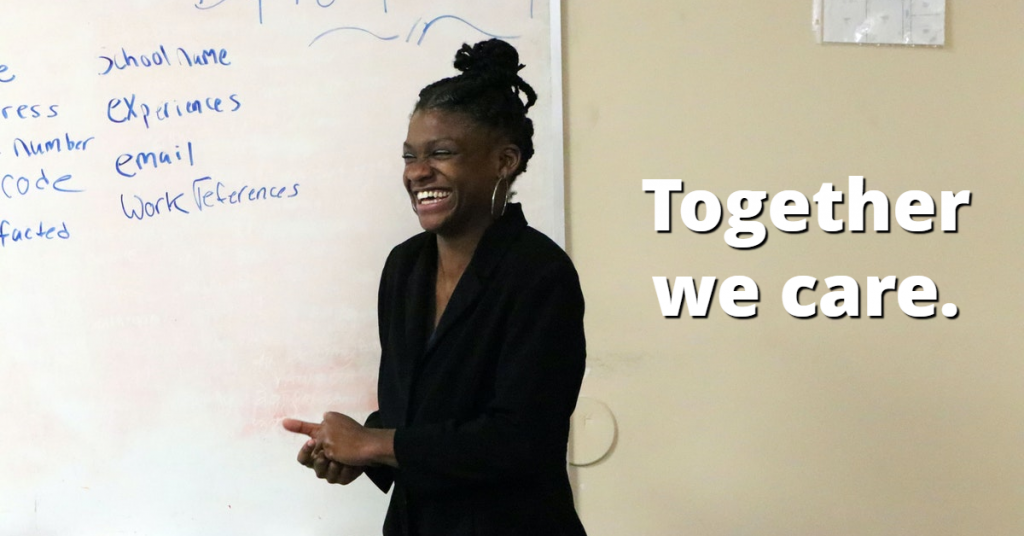 April 23, 2020 – It has been about five years since Keyontay Belcher came to Chimes.
"When she started, she did not like to speak to a lot of people, said Ogochukwu Olise, Program Supervisor of Employment Services at Liberty Club East in Baltimore.  "She was always shy and would just speak or stay with her friend Philomina, but now she has a lot of friends in Chimes."
Over the past five years, Keyontay has been transformed.
A surge in confidence has helped her reach many of her employment goals, and even be selected as the Employee of the Year at the Baltimore County Commission on Disabilities 29th Annual Awards Ceremony in October 2019. "Keyontay is a hard-working person," added Olise.  "Wherever she works she does well."
Customer Service is Key
Keyontay's career in customer service began at Marshall's where she learned job expectations and what it means to have a job.  That experience, combined with job coaching through the Chimes Supported Employment Program, led to a job as a ticket-taker at Oriole Park at Camden Yards.  For two seasons she collected tickets, disposed of items not permitted in the stadium, and greeted guests at the gate.  She enjoyed working there because she met people from all over the United States.
Motivated to find another job at the end of the 2019 baseball season, Keyontay quickly landed a position at a movie theater in the Baltimore area.  "It's a lot of work but it's cool," she said.   But that was before social distancing and the temporary, indefinite closure of the theater in addition to most other public venues.
What Keyontay liked most about her theater job was helping customers.  She thrived from positive feedback about her customer service skills and her infectious smile. "Keyontay is a friendly person," Olise noted. "She has a very beautiful smile. When anyone sees her, they see her smiling face."
Mentoring Others Comes Naturally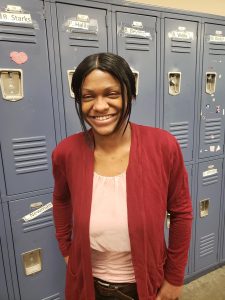 All of Chimes' day programs are temporarily closed by government mandate to help stop the spread of COVID-19.  That includes the Liberty Club East in Baltimore, where Keyontay frequently taught a job readiness class and shared the keys to her success with peers seeking employment.
The exploratory class focuses on best practices for finding and applying for a job.  Activities include mock interviews, resume creation, and interview tips.  Discussion topics include goals, personal hygiene, chain of command, ways and steps to be successful, good teamwork and sportsmanship, strengths and weaknesses, and how to have good attendance.  She began speaking to the class when while still working at Oriole Park, often leading the group discussion.
In one class, Keyontay talked about how to dress for an interview and why your resume is important. "You've got to have a positive attitude at your interview," she shared with the class. She said that she loves teaching others and making them feel comfortable.
"Keyontay's path to competitive employment is a great example of how Chimes' Employment Services can help individuals reach their goals," said Douglas Smith, Associate Director of Employment Services for Chimes Maryland.
Keyontay is looking forward to when she can return to work and continue working toward another goal – saving to buy a car.
Chime In and Ring the Bell on COVID-19
Prior to COVID-19 restrictions, 88 people served through Chimes Maryland's Employment Services Programs were independently employed according to Smith.  That number has dropped to 28 as non-essential personnel have been furloughed due to the pandemic.  "The 28 who continue to work, and be supported by Chimes, are all employed in what are considered to be essential roles such as grocery store workers and custodians at hospitals and other essential public buildings," Smith said.
While 60 participants in Supported Employment, including Keyontay, are furloughed, so are many of the employment specialists who support them.  The Frontline Fund has been established to help keep Chimes programs ready to reopen when restrictions are lifted, including keeping employment specialists ready to provide vocational support when businesses can reopen and people get called back to work.  The Frontline Fund is one way to help keep these vital supports in place and ready to respond quickly.
Together we can Ring the Bell on COVID-19.  To make a secure gift online visit https://bit.ly/2UAwbJU or mail a check to:
Chimes
ATTN: Frontline Fund
4815 Seton Dr.
Baltimore, MD 21215