Help Chimes Advocate for Direct Support Professionals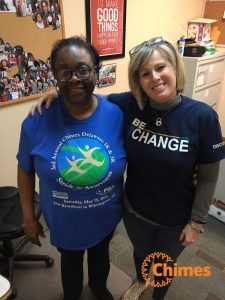 March 20, 2020 – In this time of remote work and social distancing, Chimes is grateful for the hundreds of dedicated Direct Support Professionals who support a vulnerable population that is often invisible.  DSPs are considered "essential" to those they support.  They are paid low wages and are often overlooked, especially when extra funding becomes available.
Help Chimes speak for the hundreds of DSPs who give so much every day and are sacrificing through this unprecedented national health emergency to support those who need it most.
Here's how you can help:
Send a message to your congressional representatives.  Urge them to prioritize funding for I/DD services – including funding to strengthen the direct support workforce – as they consider stimulus packages for COVID-19.
Share on social media.  Share what you do, or how a DSP helps you or a loved one, and why it is important.  Use the hashtag #DSPsAreEssential.  For example:
I support two young men with I/DD who are struggling to understand COVID-19. They rely on me throughout their day. For me, staying at home isn't an option. #DSPsAreEssential
or even
My city is virtually locked down, but three women with significant disabilities are counting on me to show up. #DSPsAreEssential
Tweet your governor. Outline no-cost, high-impact ways they can support DSPs during the COVID-19 response to make sure people with intellectual and developmental disabilities have the support they need.
THANK YOU for helping us stand for the hundreds of DSPs who care for the most vulnerable in our communities.