Chimes Cafe: Online Ordering Now Available!
Looking for a new option for breakfast, dinner or lunch this week? Why not stop by the Chimes Café and order ahead with our new online ordering feature! Chimes Café is located at 4814 Seton Drive in Baltimore and provides training, employment and an integrated work experience for those we serve.
Our café serves up delicious meals Monday to Friday in a friendly environment! Some of the meals you can enjoy at the Chimes Café include: omelettes, BLTs, shrimp salad, wings, and a variety of other tasty items. The Chimes Cafe is also now serving a special dessert menu item on Tuesdays! On Wednesday evenings, we are also now offering "dinners-to-go." You can order online or call ahead to order 410-358-6671 and have a hot & ready meal when you arrive!
We spoke with Arnetia Bush, Chimes Café employee, about what she likes about working here!  "I have been with Chimes Café for 3 years, what I like most about working here are the customer and working with the other individuals. They give me a different aspect on life. Besides the people, I cook during breakfast and my favorite is making scrambled eggs."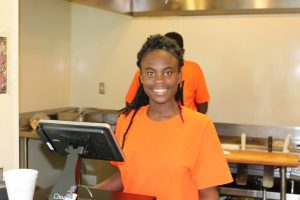 The Chimes Café creates jobs for those with disabilities, and we hope you'll help support our mission of providing everyone with the opportunity to succeed!