Employee Highlight — Marlene Hall
Marlene Hall is the Director of Quality Improvement in the Chimes Maryland Community Living Department. Her job involves funding acquisition, fiscal management, facilitation of Community Living admissions, completion of various compliance audits and analysis, project management, coaching and supporting roles for many different aspects that affect the people we support and Community Living operations.
Marlene has worked at Chimes for 23 years and loves how social her job is. Throughout her 23 years with Chimes, she has had the chance to develop professionally and personally with the support of many role models who were committed to bettering the services we provide and demonstrated how to embrace change to create opportunities and positive outcomes.  She says, "Since my career at Chimes began at Curtis Hall Senior Living center, my three to four years there were very memorable as I was part of the day to day lives of the people we supported, planning activities, managing operations, and observing the relationships."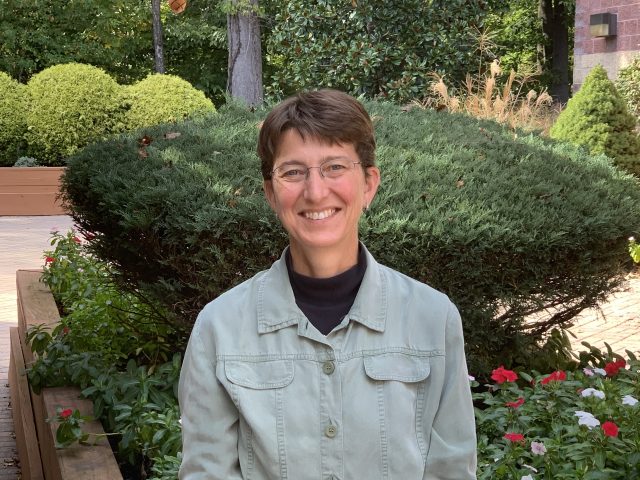 Prior to working for Chimes, Marlene earned her Bachelor's degree at Slippery Rock University and then her Master's degree from the University of Iowa.  She shares, "Once I graduated I remained in Iowa City and was offered a position as an Activity Director at a small rural nursing home in Lone Tree, Iowa which literally had only one stop sign and everyone knew each other.  When I moved to Davenport, Iowa, I began working as an Activity Director at the Kahl Home, which was larger and more suburban, providing a different experience and activity options to offer the residents.    I then moved to a suburb of Chicago for a few months at which time I was an Activity Director in a new nursing home where I was able to start the activity program there."  After about nice months there, she made the decision to move back to the Baltimore area. She adds, "I enjoyed my experiences as an Activity Director in the Midwest and working with the geriatric population, so when I returned to Baltimore, I began exploring job opportunities to continue to do similar work."
Steve Adams, Marlene's supervisor, shares, "Marlene wears many hats in Community Living and is a huge advocate for our individuals.  She steps up to assist the Division Managers in our department with ensuring their homes have updated program and medical books.  She takes the time with new DM's to learn the books and helps them set them up when necessary.  She truly is an asset to our department and Chimes."
Marlene loves the environment she's exposed to at Chimes, and is very reliable and helpful. She says, "My job involves a vast array of responsibilities that allows me the opportunity to interact with the people we support and their teams, provide coaching to staff, continuously learn and be involved in the changes within Chimes and within the field."
Another memorable time for Marlene was facilitating the admissions of and house openings for the individuals that we were accepting into our residential program as Rosewood closed.  "In addition to a tremendous learning experience, it was very rewarding to be a part of the process for the men and women who had been institutionalized for many years to transition to community living and thrive," Marlene adds.